Christmas Greetings From Ellis Academy
Posted: December 21, 2021
Is it just us, or does it feel like Christmas has come around really fast? It's nearly time for us to close our doors and let the team have a well-earned break but we will be back in the New Year with our exciting range of martial arts classes for kids and adults alike.
2021 – What A Year
We don't want to sound too clichéd but we're sure 2021 has been the same for many businesses – twists and turns, lots of uncertainty. We continued with our virtual classes in the earlier part of the year but decided to discontinue these just a month ago.
Although the online classes were extremely useful during the Covid-19 lockdown, nothing compares to the real thing and our team were delighted to be able to move safely back to in-person classes. Being back in the dojo we of course had to ensure the safety of our students, so we introduced deeper cleaning between classes, and held smaller groups to ensure everybody had enough space.
Speaking of the dojo – we also got a chance this year, right back in January to give the place a little bit of a makeover. The refurb included newly carpeted areas and once our students returned, they couldn't believe how great the place looked.
We've continued to hold in-person classes all through the summer, autumn, and up to now. We've even had time for some festive fun in the Dojo with a Halloween event, and Christmas classes (see pic below from last week!)
We're ready for a break now and our students are too but we will be back fighting fit in the new year!
Of course, that is restrictions permitting…at the time of writing this there is no national lockdown in place but we will be keeping a keen eye on the news over the holidays and planning accordingly.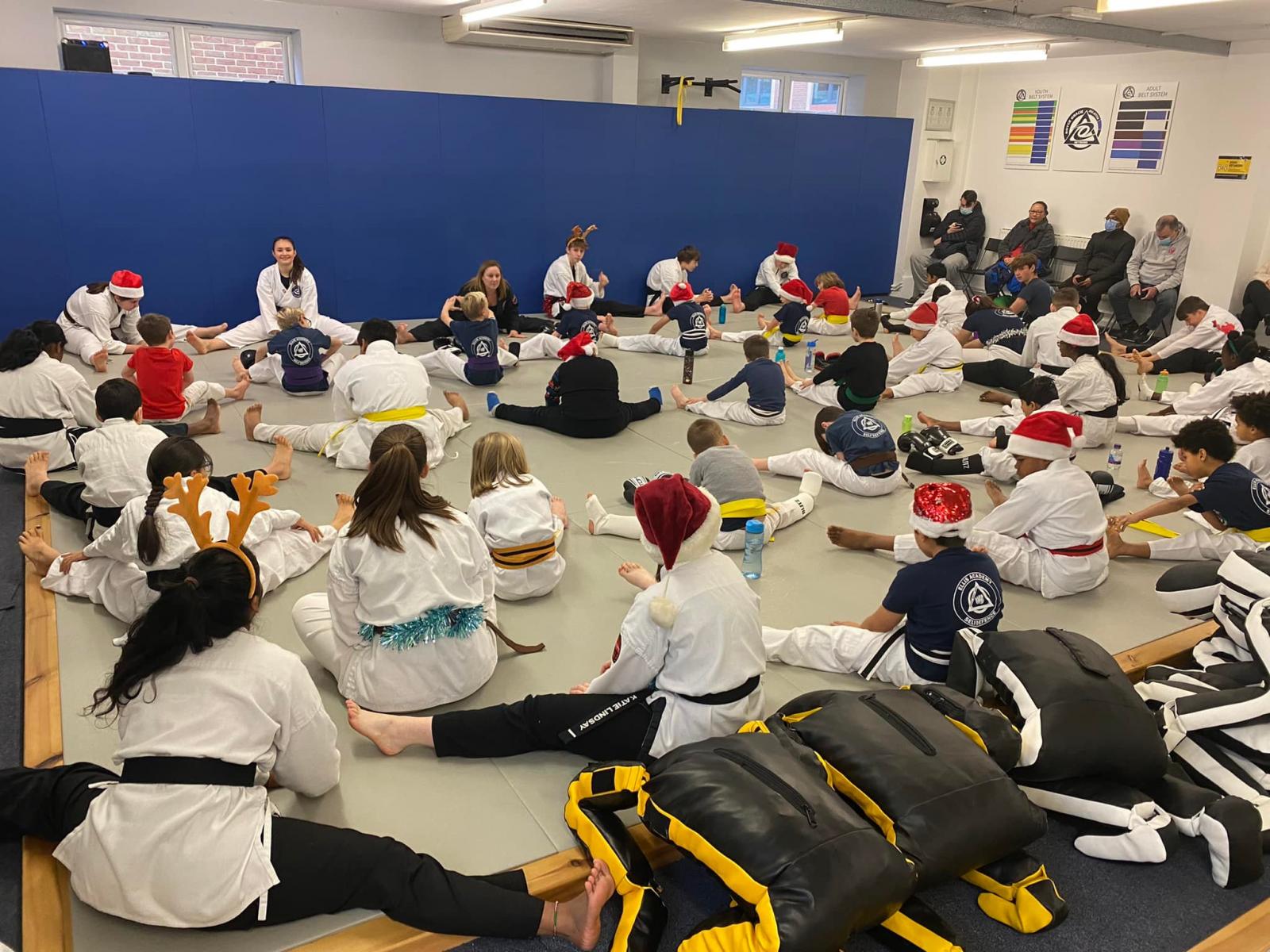 Martial Arts Classes For The New Year?
Speaking of next year and keeping fit…if you haven't tried martial arts before and are keen to get your start or enrol a child, the new year is a perfect time to pick up a new hobby. Keep an eye on our Facebook page for updates or get in touch to enquire about classes.
We even have a trial offer – if you aren't satisfied with your martial arts experience, we give you your money back! Can't get fairer than that!
Enjoying The Holidays
Our final message for the year is to wish every single one of our students and friends a very merry Christmas from all the team here at Ellis Academy. You've all had a smashing year and we can't wait to see you all progress even further in 2022.
Remember to enjoy the holidays and take some time to relax and reflect on what you have achieved in what has been another tough year for many families.
Stay safe and have fun!