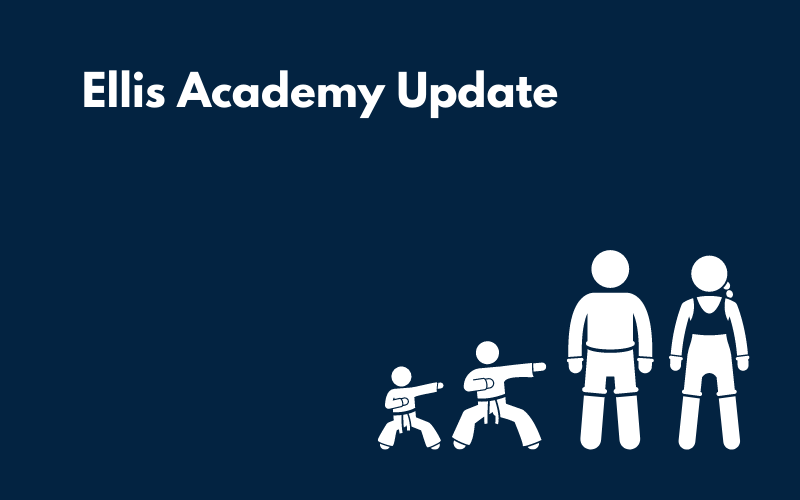 Ellis Academy Update
Posted: April 08, 2022
It has been a while since we last updated you all regarding what's going on in the gym, so we thought we'd give you a heads up, and what we have planned moving forward.
Gym Update
In terms of sports and mixed martial arts specific, the coronavirus pandemic seems to be a distant memory. For a few months now we have been operating back to normal, or shall we say the new normal.
As we announced a few months ago our online virtual classes, which were crucial during the lockdown, have now fully stopped with our focus turning back to maintaining and improving the standards in the Ellis Academy Gym.
What you'll be pleased to know is, our online virtual classes will be replaced by a very new feature that we should have up and running by Easter. So keep your eyes peeled, your ears open, and watch this space.
Cleanliness Update
Just so you're aware, before entering the Ellis Academy Gym, we would like to inform you of our policies and ethos.
The cleanliness of clothing, equipment and the facility is our top priority. We believe in these small factors being the foundation of everything we do, and in recent times it has heightened our focus.
It instils discipline in us all. If you look at it from a different angle, if something so small can't be taken care of - how do you think you will fare inside the gym where there are plenty more things to worry about.
In terms of the facility, we clean the equipment and mats between classes, and the windows are open to circulate fresh air. Once everybody has left the gym, we steam clean by leaving the fogging machine on overnight.
Karate Classes In Surrey For Children
From traditional martial arts to more contemporary MMA styles, our academy is the ultimate training ground for people of all fitness and skill levels. We have two adult programs you can choose from:
Our Tiny Tigers program for children between the age of 3-6 is the best martial arts program for kids, in the area. In fact, I'd go as far to say, ever! With a mixture of self defence and karate, your child will love it.
Tiny Tigers allows children to feel engaged with our martial arts program by providing strong visual cues to help them align with their achievements and goals.
From a young age, we teach your tiny tigers motor skills, sit still, discipline, behaviour, the basics of self-defence and karate, but the most important thing is confidence.
After Tiny Tigers, your child has two pathways, kids martial arts being one. From the ages of 6-to, 9 children can take their learning to the next level. The foundation of the kid's martial arts curriculum is the ongoing review and development of life skills such as:
Positive mental attitude
High goal-setting
Perseverance
Self-control
Confidence
After Tiny Tigers, this is their second avenue. This is a martial art blueprint in Jiu Jitsu - it allows you as parents to be confident you're raising leaders. The class focuses primarily on developing the fundamental skills that young students require to effectively learn Royce Gracie Jiu Jitsu.
The ongoing development is the same in both pathways, whether your child takes Kids Martial Arts or Kids Royce Gracie Jiu Jitsu.
As you progress up the ages so do our programs. Designed to tackle the challenges of life our Teens Martial Arts program gives you the tools to become a successful, confident, leading, young adult.
The foundation of the teen's martial arts curriculum is the education and development of life skills such as positive mental attitude, high goal-setting, perseverance, self-control and confidence.
Teens need an environment to become independent and challenged to their maximum and our program can give them the gateway.
Today's world keeps getting tougher for teens. Here at Ellis Academy of Self Defence, it is our goal to create a safe and encouraging learning environment, where they can learn self-defence, discipline, and confidence without being ridiculed for their mistakes.
Jiu-Jitsu is widely considered the most effective form of self-defence in the world and has become hugely popular, especially with the explosion of the UFC. The primary goal of Jiu-Jitsu is to control a resisting opponent in ways that force him into submission by grappling.
Adult Self Defence Classes In Surrey
Our Adults Martial Arts program provides a way for adults to stay in shape. It won't become dull like a gym routine. As soon as you get better and progressively learn, there are always more challenges ahead to keep you inspired and coming back for more!
We specialise in both programs, but Jiu-Jitsu is a unique art that truly teaches self-defence in the real world. Based on simple principles and instinctive movements, this reality-based system is designed to teach real self-defence in the shortest possible time.
Get In Touch
Here at Ellis Academy Of Self Defence, we help parents raise confident leaders and adults to reach their full potential. If you're in the Surrey area and would like to enrol your child or yourself into one of our classes, please get in touch.