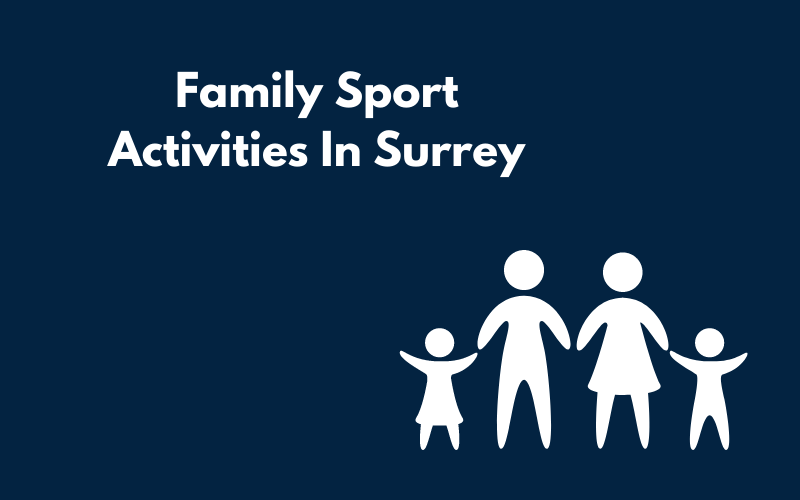 Family Sport Activities In Surrey
Posted: November 29, 2021
Anyone with kids will understand trying to organise and execute family sport activities is a balancing act. You want to make sure that the children are entertained, and the adults can participate.
Surrey was made for family fun, come rain or shine, we have some great family friendly things to do here in Surrey. Whether you've got a child who loves all things sporty or you're trying to encourage a son or daughter to try something new, here are some great fitness ideas to keep the whole family healthy.
Just recently expanded their track, the course length is now an staggering 800m so you can experience the impressive track for the same price. Two levels of go karting action for the price of one when you take on the crazy corners and rapid straights at their new fast and furious track!
See who's the fastest in your family with the ultimate family race experience.
Gravity Force Trampolining park is a perfect family sport activity in Surrey. If you and your children are thrill seekers and enjoy having fun, it certainly won't disappoint.
Depending on the type of parent you're Gravity Force offers two areas you can utilise while being in the facility. If you want to bounce as a family feel free, but if you'd prefer to watch from the side lines the café is the perfect option to enjoy a warm drink whilst recording the happy smiles on your children's faces.
Gracie Jiu Jitsu: Ellis Academy Of Self Defence
Crush your fitness goals with the whole family with this family sport activity in Surrey. Ellis Academy Of Self Defence is a great way for your children to develop a strong foundation for life. From respect, discipline and the mentality to improve both mentally and physically, Jiu Jitsu will positively impact your lives.
Lucky for you we're back to in person classes!
Skiing and snowboarding are physical demanding sporting activities. Christ College Ski Club has two slopes ranging in length and gradient to suit the ski level of its consumers.
The Nursery Slope at Christ's College Ski Club is a 20m long gentle gradient ideal for those first tentative moments on skis. The Main Slope is 50m long with a progressive gradient for progressive learning.
The club also has a Donut Slope which is 40m long, a little steeper than the main slope and specially designed for donutting.
Family lessons start from £85!
Hide And Seek: Virginia Water Lake
The thick woodlands make the site a great place for families wanting to play hide and seek outside of the home. Located on the edge of Windsor Great Park, enjoy a pleasant walk around Virginia Water Lake and look out for the many curiosities, including a 100ft-high totem pole, a cascade, an obelisk raised by George II and part of a ruined city imported from North Africa.
Take a picnic or grab an ice cream from the kiosks dotted around the lake. Entry into the woodlands is free, parking is from as little as £1.50.
TopGolf
There's no better time to improve your golfing ability than winter, it means you have months to go until summer where you will be able to play more regular because of the weather and length of daylight.
TopGolf is a great family sport activity in Surrey. With micro-chipped balls and virtual playing fields - as well as sports aside from golf - it's an easy way to reach pro status.
How it works is you score points by hitting micro-chipped balls at giant targets on an outfield, kind of like darts but on an enormous scale. The closer you get to the bullseye, the more precious points you earn.
The same whizzy tech is applied to other sports, like TopBreak for snooker fans or TopShot where the game challenges you to hit consecutive targets at top speed! Finally, Footgolf serves up assured silly, slidey fun. It's trickier than it looks, and you'll be hard-pressed not to trip over your own feet - good luck!
Get In Touch: Ellis Academy Of Self Defence
The Ellis Academy of Self Defence curriculum provides a great way for families to stay in shape whilst learning this gentle art. Our Programs won't become dull or routine because as soon as you get better and continue learning, there are always more challenges ahead to keep you inspired and coming back for more!
Based in Redhill, Surrey, Ellis Academy Of Self Defence have been around since 2001. Our spacious, clean gym is the ideal location to start your jiu-jitsu journey.
If you're in the Surrey area and would like to enrol your child or yourself into one of our classes, please get in touch.