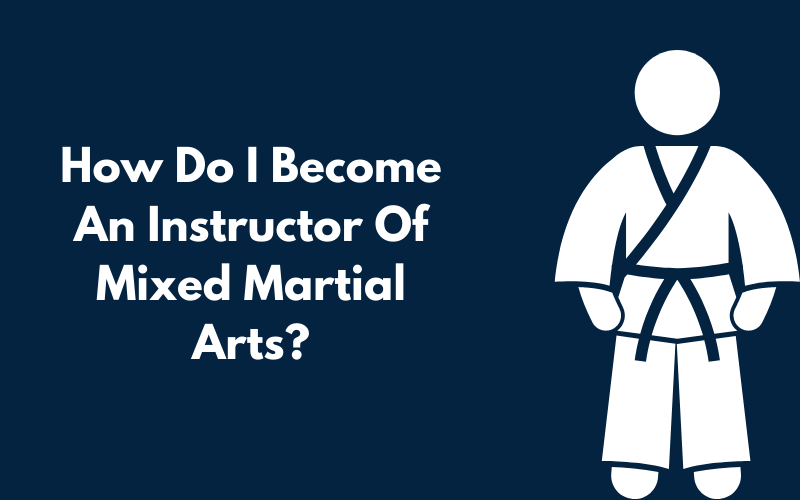 How Do I Become An Instructor Of Mixed Martial Arts?
Posted: June 03, 2021
Would you like to become a coach or qualified instructor of mixed martial arts, with your gym? Or have you been thinking about a career in mixed martial arts? Well, this very blog is going to explain the process of becoming a certified Instructor.
As a mixed martial arts instructor, you have two options; either be self-employed and own your gym or work inside a gym. Being an instructor could be your main source of income or your secondary one, alongside another job.
Most martial artists have the best intentions when setting up their gyms, or teaching at an already established centre.
What Does A Martial Arts Instructor Do?
A martial arts instructor helps their students understand the philosophy and history of their chosen speciality. The instructor teaches them the skills, attitude and discipline they need to take part and progressively learn safely.
Specific job roles would include:
Preparing lessons

Demonstrating warmups, skills training and physical conditioning

Breaking down complex techniques into simple moves

Developing an individual training plan for each student

Observe and asses' students, giving them feedback when required

Practising their skills

Taking responsibility for the health and safety of students, and the habits they pick up
A mixed martial arts coach involves working with students of all ages, backgrounds and physical conditions. It is their responsibility to work accordingly, instructing them to and at an appropriate level.
What Qualifications Do You Need To Be A Mixed Martial Arts Coach?
Many aspiring martial artists fall in love with their art and would be touched to spread its life-changing impact to others. Some however have a personal drive to teach and make their neighbourhood a better place through the practice of mixed martial arts.
To train as a martial arts instructor you need a coaching qualification recognised by the national governing body (NGB) for your martial arts discipline.
Before completing your qualification, you would need; to be at least 18 years of age, an instructor membership of NGB, a grade approved by NGB, and a recommendation from your association before attending an instructor course.
Some NGBs may require you to have been an assistant coach qualification for at least six months. Your NGB will advise you on the required qualification, they are usually a full-time course or through distanced learning.
If you're working with children or vulnerable groups, you will need Disclosure and Barring Service (DBS) clearance.
Instructors complete a martial arts training programme, surprisingly only a small amount then go through a teacher training programme. Instructors with both qualifications tend to run very impressive gyms, with the best equipment and top tier students (An observation from Joel).
The teacher training programme allows the master to connect better with students, positively teach them, organise an effective programme, handle any arising issues and grow their students for the greater community.
For further information on how to become a coach visit Sport England, SkillsActive, British Ju-Jitsu Association just to name a few.
Do You Have To Be A Black Belt To Teach?
Most martial arts coaches tend to hold at least a black belt in the style they teach. Some gyms say those who have attained a black belt are only able to teach their style and rank students accordingly.
A black belt demonstrates that you've gained the skill and knowledge to practise the full training programme of self-defence. Check out our blog to see how long it takes to get a black belt.
It is more than just a training programme that practises the techniques of mixed martial arts. A black belt demonstrates a lifestyle and an understanding of the philosophy alongside careful responses.
You're truly a master of the art.
Qualified & Professionally Trained Martial Arts Instructors
Ellis Academy of Self Defence is so proud of its spectacular team.
Each of our martial arts teachers is not only experienced, qualified, and certified in martial arts, they are also qualified in teaching martial arts. So, you have peace of mind that you and your children are always in the best hands.
Each of our instructors come to work with the greatest of intentions to help our students not only become confident but focused leaders.
Get In Touch
Here at Ellis Academy Of Self Defence, we help parents raise confident leaders and adults to reach their full potential. If you are in the Surrey area and you would like to enrol your child in one of our classes or join one of our adult classes, please get in touch.
We currently have a trial offer available, so you can try one semi-private lesson completely FREE with no commitments and no payment!