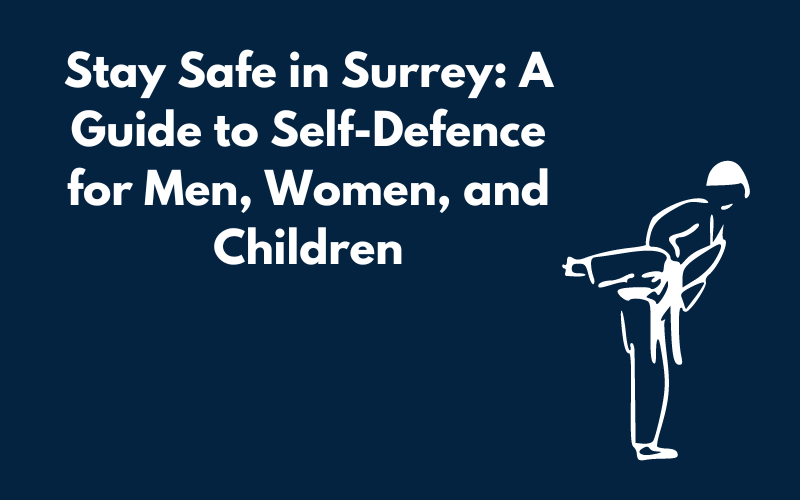 Stay Safe in Surrey: A Guide to Self-Defence for Men, Women, and Children
Posted: January 26, 2023
Surrey, like many other areas of the UK, falls victim to crimes such as assault. At Ellis Academy, we pride ourselves on equipping our students, whether they are children or adults, with the appropriate skill set to defend themselves in real life situations. In this blog, we aim to offer a guide to self-defence for men, women and children.
A Guide To Self-Defence For Men And Women
Men and women unfortunately can suffer the effects of violent attacks that happen daily across the globe. Knowing self-defence can allow adults to protect themselves and their families if faced with a dangerous situation. Attending self-defence classes can be tough for an adult, starting a new hobby, getting into a new fitness routine and pushing out of a comfort zone are all things which adults specifically can find quite uncomfortable.
With that being said self-defence comes with a plethora of advantages for people of all ages. Knowing self-defence techniques can not only keep you safe but boost your physical and mental health, improve concentration and build confidence.
81% of women have admitted to experiencing some form of sexual harassment or assault.
The feeling of uncertainty and unease when walking home alone, or being around a stranger is a little too familiar for so many adults and we want to educate adults to defend themselves if these situations escalate to more than just a 'weird vibe'.
Usually women, and in many cases, men too, feel more empowered and confident in uneasy situations when they can rely on their knowledge and practice of self-defence techniques. Self-defence is about putting safety strategies in place to defend yourself against external threats.
When adults learn martial arts at Ellis Academy of Self-Defence, we encourage the development of techniques, rooted in the practice of Royce-Gracie Jiu-Jitsu. This type of practice has been adopted by law enforcement and military personnel across the globe due to its success in self-defence.
Encouraging adults to improve their fitness, target vulnerable areas and learn to defend themselves is how Ellis Academy equips its students to apply their own safety strategy to the real world. No kicks and no punches are involved, most attacks end up on the ground, Royce Gracie teaches his students what to do once they are there.
These are in fact many of the same strategies that British police officers use when in a threatening situation.
A Guide To Self-Defence For Children
Perhaps not in the same way, but children also fall victim to attacks in the real world. As parents, we all want our children to understand how to protect themselves from bullies - with martial arts techniques, children can protect themselves in any dangerous real life situation that should arise.
As with adults, martial arts classes offer so many benefits to children, including self-confidence, fitness and stamina. But alongside these benefits, it also allows children to learn more about discipline, respect and authority which they can carry into other aspects of their lives like school and home.
Martial arts for kids can have a direct impact on their behaviour and mental well-being. No matter at what age a child is, learning self-defence skills can be the perfect blueprint for healthy child development. Providing a child with the ability to detect a dangerous situation and protect themselves can be life-saving in real-world situations.
If you'd like to learn more about self-defence classes for children in Surrey, check our classes out!
Conclusion
At Ellis Academy, we aim to equip our students, whether they be men, women or children with the right skills to stay safe. Staying safe in Surrey is something we are passionate about and we hope that anybody who learns their self-defence techniques is also armoured with the confidence to defend themselves should a violent situation arise.
Offering self-defence classes for all ages in Surrey, Ellis Academy of Self-Defence aims to educate children and adults on the advantages of martial arts techniques, especially those rooted in the practice of jiu-jitsu - Royce Gracie jiu-jitsu to be precise!
If you want to stay safe in Surrey and are interested in taking part in self-defence classes, why not visit us? We offer, no commitment trial classes where you can see if our style of training is something that suits you.
If you would like to speak to a member of the Ellis Academy team, get in touch!
You can call us today on 01737761999