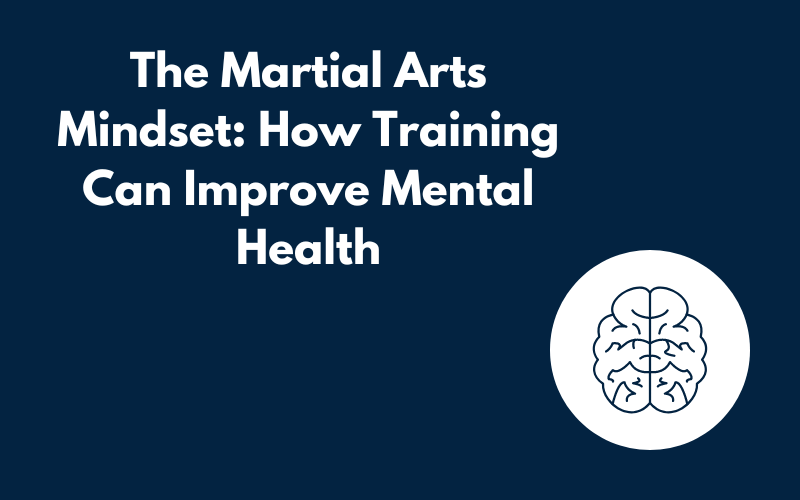 The Martial Arts Mindset: How Training Can Improve Mental Health
Posted: February 21, 2023
It is no secret that martial arts can host so many health benefits. This doesn't stop at physical advantages, however. Martial arts training can improve mental health vastly, for both adults and children. In this blog, we aim to explore the martial arts mindset and delve into the mental health benefits that martial arts practices can offer.
The Benefits Martial Arts Can Have On Mental Health
Martial arts is a brilliant practice for enhancing both your physical and mental health - but how? Let us explore how martial arts training can improve mental health and mindset.
Stress Relief
As with a lot of sports and forms of exercise, martial arts is a brilliant practice for releasing endorphins and lifting our mood. The release of endorphins directly impacts stress in a positive way. Channelling our energy towards feeling good combats feelings of stress, depression and anxiety.
Martial arts specifically focuses not only on physical strength and stamina but that of the mind. Practices of mindfulness and meditation that come hand in hand with many practices of martial arts can help recenter a person and enable them to relieve stress.
Purpose
Being part of a martial arts dojo brings a sense of calm as well as offers a place where one can work on their social skills and self confidence. Martial arts often brings people a sense of life purpose, having goals and being able to experiment around like minded practitioners can have a huge advantage on one's mental health and mindset.
Personal Development
This leads us nicely to our next point. Martial arts training can improve mental health by encouraging personal development, both physically and mentally. Identifying mental blocks when faced with challenges and working through them can make massive improvements to your mental health.
Martial arts can enable one to establish boundaries and work on themselves within as well as progress externally.
The Gracie Mindset
Royce Gracie, and his teachings, focus heavily on mindset as well as physical technique. Gracie talks about 'maintaining a winning mindset'. Jiu jitsu legends like the Gracie family are no strangers to the benefits martial arts can have on your mental health and how mindset makes a huge impact on one's success within the practice.
The Gracie family often draw on the importance of mindset and mental health when it comes to jiu-jitsu and the reciprocal relationship the two have.
"Don't seek to control what you feel, but manage how you respond to your emotions"
"You should cultivate a relationship with struggle; fearing struggle won't make your problems disappear and will probably make them worse"
"I can teach you, I can show it to you, but at the end of the day you are the one that has to do it"
When training in martial arts, it's essential that both your body and mind are in harmony. Being able to overcome challenges means that you need physical strength but also mental resilience. Training in martial arts can strengthen your body and mind and in turn, improve mental health.
The Martial Arts Mindset At Ellis Academy Of Self Defence
Here, at Ellis Academy of Self Defence, we follow the teachings of Royce Gracie in our practices and everything that his techniques encourage, including mindset.
The martial arts mindset is one of focus, discipline, self esteem and courage. We encourage all our students, whether they be children or adults to embark on the journey of martial arts, which encompasses its effects on mental health.
We pride ourselves on offering a space where team spirit is built, fears are overcome and characters are developed - all things that can adapt mindset and improve mental health.
If you would like to learn more about how we work on the martial arts mindset in our dojo, our team are on hand to answer any queries regarding the relationship between martial arts and mental health.
Get in touch with a member of our team today.
You can call us on 01737761999.