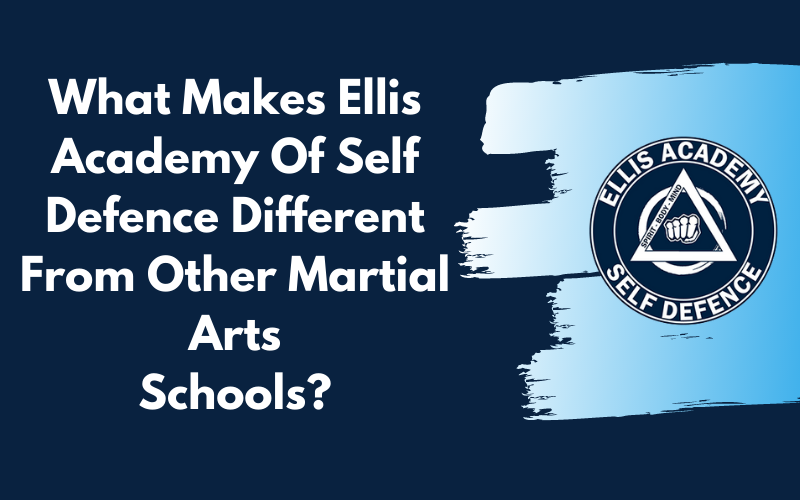 What Makes Ellis Academy Of Self Defence Different From Other Martial Arts Schools?
Posted: October 09, 2020
Many people feel uncertain about starting martial arts. And finding the right martial arts school for yourself or your children can make the experience even more challenging. But here at Ellis Academy of Self Defence, we are committed to serving and empowering the Redhill Community.
If you are in the Redhill area and are looking for a martial arts school with a difference, Ellis Academy will be perfect for you. In this blog, we are going to highlight what makes Ellis Academy of Self Defence different from other martial arts schools.
Two Decades Of Martial Arts Experience
Ellis Academy Of Self Defence opened its doors in 2001. Our owners, Masters Chris and Virginia Ellis began their martial arts journey as children. After serving the community of Redhill and surrounding areas for almost two decades we have the extensive experience and skill required to teach children and adults an array of life skills through martial arts.
Although we started almost twenty years ago, our martial arts and self-defence programmes are constantly evolving. Our 'traditional meets modern' approach allows our students to learn self-defence and awareness skills for the real world.
Prioritise Personal Development
At Ellis Academy, we don't just use martial arts and Gracie Jiu-Jitsu to teach adults and children how to defend themselves. We place education and personal development at the core of our teaching curriculum.
We pride ourselves on our ability to teach life skills such as positive mental attitude, high goal-setting, perseverance, self-control, confidence, and the importance of respect.
The journey from white belt to black belt that students embark on when learning Royce Gracie Jiu-Jitsu, is one of continuous learning and skill development. Children will join classes with age-specific curriculums that assist healthy child development.
Spectacular Martial Arts & Self Defence Facilities
The Ellis Academy facilities are always sparkling clean with matted floors throughout. There is a viewing area so parents can see how their children are progressing.
Plus, we have complimentary Wi-Fi and separate locker rooms for men and women. Our facilities are also fully-equipped for special events including workshops, parties and seminars.
Month To Month Memberships
Unlike other sports clubs, we won't tie you into lengthy contracts. At Ellis Academy, we offer month-to-month memberships, so you don't have to worry about long-term commitments. However, if your child LOVES their classes and is in it for the long-run (and we're sure they will be!), you can save money on longer plans.
Qualified & Professionally Trained Martial Arts Instructors
Ellis Academy of Self Defence is so proud of its spectacular team. Each of our martial arts teachers is not only experienced, qualified, and certified in martial arts, they are also qualified in teaching martial arts. So, you have peace of mind that you and your children are always in the best hands.
Each of our team members come to work with the intention of helping students become confident, focused leaders.
Teach Self-Defence For The Real World
At Ellis Academy Of Self Defence, we aim to equip your kids with the tools and skills they need to succeed in the real world. This is why our reality-based system is designed to teach real self-defence in the shortest possible time.
We create a safe, supportive and fun environment that allows your children and teenagers to learn discipline, confidence and self-defence techniques. With the help of martial arts and Gracie Jiu-Jitsu, your child will be assertive and self-reliant in high-pressure situations.
Selection Of Programmes For Children And Adults
Our kid's martial arts classes are tailored to age groups. Tiny Tigers introduces you 3-6-year-olds to the wonderful world of martial arts.
Our specialised Kids Martial Arts programme is exclusively designed for children age 6-9 years and our Kids Royce Grace Jiu-Jitsu focuses on developing the most fundamental skills that young students require to effectively learn Royce Gracie Jiu-Jitsu.
We also provide Teen Martial Arts classes for 10-15-year-olds and Teen Gracie Jiu-Jitsu that teaches self-defence for the real world.
Our adult classes, including Adults Martial Arts and Royce Gracie Jiu-Jitsu, allow those 16+ to get in shape, challenge themselves and learn self-defence skills.
We are also offering Virtual Classes for those who are unable to attend our classes in Surrey for any reason.
Get In Touch
At Ellis Academy Of Self Defence, we help parents raise confident leaders and we help adults reach their full potential. If you are in the Redhill area and you would like to enrol your child in one of our classes or join one of our adult classes, please get in touch.
We currently have a trial offer available, so you can try one semi-private lesson completely FREE with no commitments and no payment!