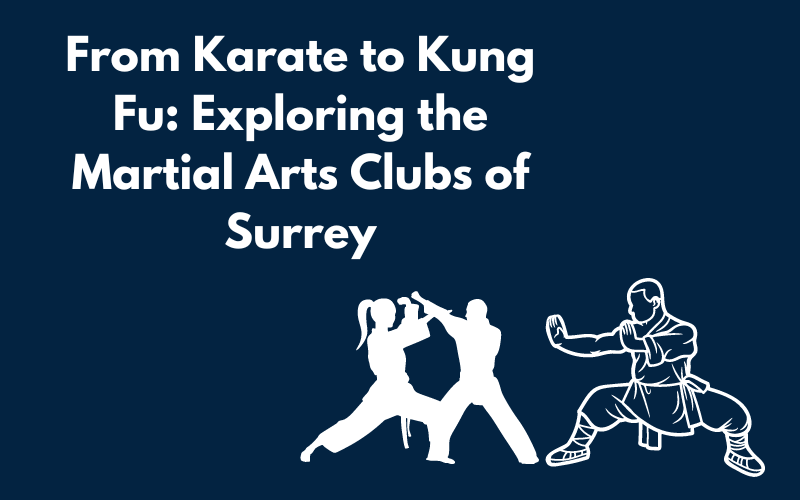 From Karate to Kung Fu: Exploring the Martial Arts Clubs of Surrey
Posted: March 17, 2023
Surrey has many great things to offer – nature parks, theme parks, museums, and martial arts clubs. And martial arts is a great way to get your children involved in a club that is both active and proactive.
Crush your fitness goals whilst learning how to protect yourself.
Martial Arts Clubs of Surrey
Ellis Academy of Self Defence
It was always Master's Chris and Virgina Ellis' dream to one day own their own school in Redhill, Surrey and foster an enjoyable environment for students. A place where they could improve their fitness but also build confidence. Something that they can apply to their everyday lives.
With classes in both martial arts and Jiu Jitsu, Ellis Academy of Self Defence is a great academy with a knowledgeable and dedicated team of instructors.
Martial arts classes start for children as young as 3 called the Tiny Tigers, kids' martial arts classes start from age 6 onwards, and adult classes are for those who are 16 and over. Likewise, there's also kids and adults Jiu Jitsu classes available.
An academy for the entire family.
Surrey Martial Arts Club
This facility in Redhill, offers free weights, functional training, cardiovascular equipment, and a facility over 7,000 square foot to its members.
With High Intensity Interval Training (HIIT) group sessions along with some 1-to-1 personal training sessions, Surrey Martial Arts Club has plenty to offer to members. And they have such a diverse range of classes available.
Gi BJJ and No-Gi BJJ, Open Mat, and Kickboxing sessions are what's currently held at this club. They have dedicated nights for advanced classes, all levels, juniors, and competition classes.
Schools of Kung Fu
One of the leading martial arts schools in Sutton, Schools of Kung Fu offers a complete self defence system for both children and adults. Starting from age 4 and upwards.
This martial arts school teaches authentic Wing Chun Kung Fu which originated from the Southern Shaolin Temple in China. Since opening in 2010, this school has only improved and improved to the point of becoming one of the most successful in the whole of the UK.
They offer both adult and child Kung-Fu classes because it's never too early or too late to teach discipline, confidence, and focus.
Kuk Sool Won
Kuk Sool Won is a martial arts system designed to improve concentration, confidence, and fitness whilst relieving stress and teach self-defence. A pretty impressive repertoire.
The owner of KSW school has been practising and honing this art since 1992 and is a 5th Degree Master Black Belt. And the classes incorporate many different things: sparring, kicking, striking, traditional forms, falling principles.
Kuk Sool Won is a traditional Korean martial art that encompasses more than 50 different Korean styles. Embedded with values, respect, and discipline, Kuk Sool Won provides a perspective of martial arts that can't really be found anywhere else.
Plus, KSW martial arts school offers free taster sessions every day for all ages and abilities. That includes complete beginners right up to advanced level martial artists.
Kinsa Judo
Founded in 2018, Kinsa Judo in Bordon is definitely a newer martial arts school in Surrey. By no means are the instructors new to the field, though. Fiona is a European and World medallist while Ashley is a triple Olympian (2012, 2016, 2020).
Ashley and Fiona created a judo coaching business so that they could share their own passion for Judo. By bringing Judo classes to schools and setting up a local club, Kinsa Judo teaches children the fundamentals of Judo.
Morlan Carr Taekwondo School UKTC
The UKTC goes back to 1993 when it was founded. Back then, it started with only a small handful of clubs in Central Scotland but since then, it has grown massively. Now, it's one of the largest ITF Taekwondo organisations in the UK with more than 300 clubs. One of them being in Surrey.
Achieve your potential with the Black Belt Programme, challenge yourself with Taekwondo sessions, build confidence within your children with the Little Tigers Cubs. Professional Martial Arts training in Taekwondo is available for children, teens, and adults.
The core values of Taekwondo don't just allow you to improve yourself in defence but in your everyday life, too. It's a great teacher of integrity, self-control, perseverance, and challenging spirit. And it's never really too late to start.
Contact Us
We're always available to answer questions you might have about our academy and our classes via phone and email. Call 01737 761 999 or use our mail form and you'll hear from one of our representatives within 24 hours!
We believe that anyone can begin martial arts, at any age and at any fitness level. Which is why we offer trial classes! There's no risk and no commitment to be made, just a trial to let you feel it out on your own.
Just to let you know, our classes often have limited spaces available so you'll need to act quickly! Really, what do you have to lose?
Check out our blog for more information, news, tips, and guides on martial arts and Jiu Jitsu!