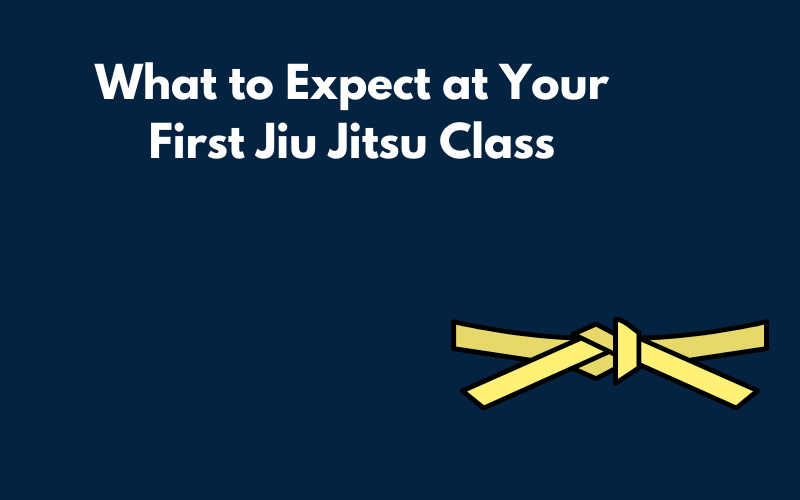 What to Expect at Your First Jiu Jitsu Class
Posted: October 21, 2022
Doing something new for the first time can be quite the daunting experience. Not knowing what to expect or feeling unprepared also doesn't make us feel any better. So if we go to a class with at least some idea of what to expect, it can bring a lot of ease.
Not every class is going to be the same, though. Whether that's because of teachers with different styles and methods or the people that are showing up each time.
However, this will be a more general guide just to give you a bit of an idea. Both of what to expect for your first Jiu-Jitsu class and even some preparation advice.
Be Presentable
Of course, just as you would for anything else, you want to turn up looking presentable. Knowing that you're organised and feeling fresh can provide comfort. You will most likely be in a room full of strangers and that is enough to bring about feelings of anxiety and insecurities.
Do whatever it is you need to do to feel tidy. That can be just a quick shower before attending the class, brushing your teeth, or maybe just carrying deodorant with you. Jiu-Jitsu is an active sport and you're going to be moving around a lot, and you'll be in other peoples' faces at some point. Doing these things beforehand may make you less hesitant and more willing to fully participate.
Something you should absolutely do, however, is to make sure that your finger and toe nails are well groomed. People with long hair will need to tie it back as it is hazard and if it gets caught, it may hurt.
What to Wear
It's unlikely that you'll have a uniform to wear to your very first class. Knowing what to wear to a Jiu-Jitsu can be intimidating, especially as it's something you've never experienced before.
Anything that's baggy or has belt loops should be avoided. Any excess fabric means that toes or fingers could get caught in them and potentially cause an accident. The safest items to show up in are t-shirts, active wear such as cycling shorts or yoga pants, or sweatpants.
When you get to the gym, you'll be having new encounters, getting to understand the dynamics, and potentially developing new skills. So allow yourself some extra time when getting dressed to make sure that you really enjoy your very first class.
If you have any injured appendages, you can actually use athletic tape to protect them.
What to Expect from the Class
First things first, be early. That way you can introduce yourself to the instructor and any other attendants that have also arrived early.
Before the class even starts, you'll be getting dressed, doing stretches, and warming up. The types of warmups might depend on the instructor – some prefer a light warmup where others will do more of a conditioning session.
Most classes will have basic warmup moves that are performed as a group and there will also be solo warmups. There may be some moves that are new to you such as breakfalls, which are to help you learn how to fall 'correctly'. That just means falling without injury – a safe fall.
Everything doesn't need to be perfect on your first go. In fact, practice is what makes us better at things because you can learn each time.
Your learning curriculum, just like your warmups, will be quite dependent on the school you're at. Some schools like to give beginners the beginner curriculum and others may just teach techniques they were planning to teach that day.
Techniques are taught by demonstration. The class will gather around an instructor and watch while they show the technique. To make it easier for beginners, instructors will do a tutorial that is step-by-step multiple times.
It doesn't matter if you don't get it right first try. Any instructor will understand that you're a beginner, not an expert. Just try not to ask for help immediately. Attempt it a few times before asking for guidance.
Sparring
Moving on from techniques of the day, you may experience rolling and sparring. Rolling is similar to drilling but instead of practicing the techniques you've just learned; the floor is open for attendants to try out wrestling.
For a first class, you may not be allowed to try submissions just yet. Submission refers to a skill that simulates the choking of an opponent. The whole point of a submission is that you can get a hold on your opponent and cause no damage at all.
Learn Jiu Jitsu At Ellis Academy of Self Defence
We practice Royce Gracie Jiu-Jitsu at Ellis Academy, which is a specific kind of jiu jitsu. We place a high priority on teach the principles of the art as well as the crucial skills of jiu jitsu.
The essential self-defence skills must be learned in order for our students, whether they're children or adults, to increase their chances for protecting themselves and surviving in actual scenarios. It also allows them to advance in belts and competitions (if that's what they want).
Self defence can lead to discipline and routine and understanding boundaries. Submission and tapping out are crucial parts of learning that which, if you continue to learn jiu jitsu, you will be taught.
Get in Touch
Are you interested in learning more about Royce Gracie jiu-jitsu and the lessons we offer? Get in touch!
Our team here are on hand to answer your queries about our teachings, classes, or even self-defence in general.
Call us today on 01737 761 999.