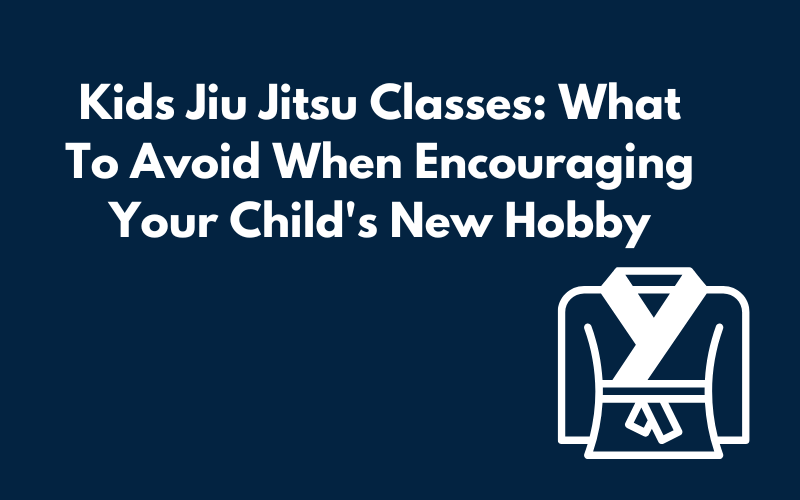 Kids Jiu Jitsu Classes: What To Avoid When Encouraging Your Child's New Hobby
Posted: June 08, 2023
As a child, finding a new hobby can be tough. As parents, encouraging our children to find a new hobby can sometimes be even tougher! Jiu-jitsu is not only a great hobby for both adults and children but is also one of the leading disciplines of martial arts, bringing a whole heap of benefits. When encouraging your child's new hobby, there are a number of things we suggest you avoid.
It's important when it comes to your child's hobbies that you offer them an opportunity to grow and develop. Sure, there are so many hobbies out there that are fun, but considering what they do for a child's development and progression into young adulthood is a different thing entirely. Kids jiu jitsu classes don't only offer fun and an engaging way to make friends and learn new skills but it also offers heaps of benefits surrounding their personal growth.
Hobbies, in general, can allow a child to organise their time, improve their confidence, help them make friends, and that is just the tip of the iceberg when it comes to advantages! Helping your child find their passions, takes time. Understanding a child's likes and dislikes from a young age is the first step in encouraging hobbies, which leads us nicely to our first this to avoid.
What To Avoid When Encouraging Your Child's New Hobby
When learning to understand what your child likes and dislikes, and guiding them towards a certain hobby, it is sometimes difficult for us to ignore the likes and dislikes of our own. One of the key things to avoid when it comes to encouraging a new hobby for your child is pushing them into a hobby that you enjoy. If you enjoy playing football, they might not. They might hate the idea of becoming a dancer, despite you training for years. They may sway towards martial arts, despite you having no knowledge of the practice.
Hobbies are a personal attribute, and encouraging your child to find their own enjoyment, with no interference is the first step to making sure they find something they will enjoy.
Despite not having knowledge or interest in what they choose, it's important that as a parent or guardian of a child, you are supportive of their choices. It's important to avoid a lack of support or not getting involved as subconsciously, this may drive your child away from what they love. Children, especially at a younger age, learn from the adults that surround them, so taking an interest in what they do, supporting their hobby and getting involved will likely encourage them to grow and develop more within their hobby.
With that being said, there is also a fine line between supporting your child and over-involvement - something that should be avoided. It's important to remember, when a child finds a new hobby that it is theirs. Letting your child explore and learn for themselves is crucial. Overscheduling practice or inserting yourself into too many meet-ups can often have the opposite effect to promoting their passions.
With support comes a celebration of achievements. Avoid ignorance. Whether it be moving up a belt in jiu-jitsu, winning a certificate or going on to compete in their chosen hobby, it is important that they feel celebrated when they come home. This makes them feel encouraged to carry on and progress.
Why Jiu-Jitsu Is Good For A Child's New Hobby
As parents, we often want our children to embark on a hobby that offers other benefits than just fun. It is usually the case that a hobby which involves progression as well as other benefits, is the most popular. This is where kids' jiu-jitsu classes come into effect.
Jiu-jitsu classes for children can not only be a fun and creative way to make new friends but can also teach vital life skills such as self-defence and improve both mental and physical health.
As a child, our bodies and minds are forever molding and changing, which is why it is so useful for personal development to start a hobby from a young age!
Jiu-jitsu offers vital lessons to those of any age but arguably has the most impact on children who are still learning the art of discipline, confidence and both physical and mental resilience.
Kid's Jiu-Jitsu At Ellis Academy Of Self Defence
Here at Ellis Academy of Self Defence, we offer children's programmes for all ages and abilities. Whether your child is embarking on the journey of finding a new hobby, or is well trained in the discipline of martial arts already, our dojo offers fun and creative ways to learn and progress within jiu-jitsu.
If you would like to learn more about what we offer at Ellis Academy and would like to encourage your child to get involved with jiu-jitsu, don't hesitate to get in touch.
You can reach our team by calling 01737761999.