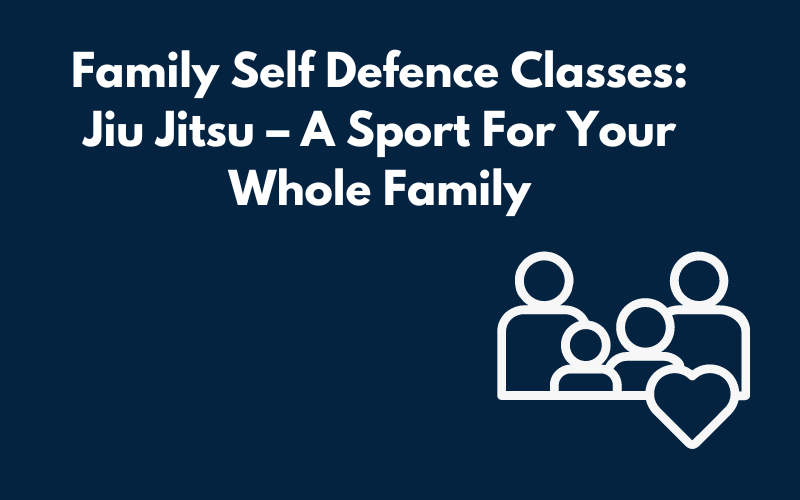 Family Self Defence Classes: Jiu Jitsu – A Sport For Your Whole Family
Posted: August 10, 2023
At Ellis Academy of Self Defence, we pride ourselves on offering a variety of self defence classes for children as young as three, all the way up to adults. Jiu Jitsu can host so many benefits for children and adults alike, including mental and physical benefits. Martial arts, specifically jiu jitsu, is a sport for your whole family. In this blog, we aim to explore the benefits of family self defence classes and share exactly how jiu jitsu is a brilliant sport for your whole family.
Learning a new physical skill, while benefiting your mind and mental wellbeing, can be enjoyable for the whole family. When you have children of different ages and parents with different jobs, it can be difficult to find a sport or activity for your whole family to enjoy. This is where self defence classes step in!
Family self defence classes can have such a huge impact on all members of your family. Let's explore how jiu jitsu can help families collectively achieve goals and can be a great option for bringing your family closer together.
The Benefits of Family Self Defence Classes
There are so many reasons why jiu jitsu is the right sport for your whole family. Learning self defence as a family unit can host so many benefits, let's delve into them!
Bonding
When work and school get in the way, it can sometimes be difficult for the whole family to bond. Often, the children don't like the same activities, parents are on different schedules and it can be tough to find an activity that everyone benefits from.
Jiu jitsu is a practice that relies on teamwork. Having fun together as part of a team strengthens family relationships. Not only can jiu jitsu bring families closer together through training but it also opens up a whole world of ways in which families can further bond, such as tournaments, martial arts films and of course the routine of attending classes.
Health
A healthier family makes for a happier family. Self defence classes can host huge physical advantages for both children and adults. Experiencing these physical benefits collectively, means your family are likely to increase stamina and physical strength as a collective. Going through something together which can have such a positive impact on your overall health is likely to bring your family closer together and teach vital lessons surrounding an active and healthy lifestyle.
The more you know about jiu jitsu as a family, the more you can encourage each other to break through physical and mental boundaries, excelling within life outside of the dojo as well as in your self defence classes.
Jiu Jitsu: A Sport For Your Whole Family
When children specifically embark on their jiu jitsu journey, there are a couple of mistakes that parents might make, especially when it comes to encouraging their child's new hobby.
The key to martial arts is personal growth and development. Although classes are taught to teams, it is very much a personal journey, with much time spent on reflecting inwards. When the whole family embarks on this journey, a mutual understanding of the sport is established.
Whether your family are complete beginners to jiu jitsu, or have an understanding of the sport, taking part in self defence classes can not only create so many benefits for parents and children alike but it also goes without saying, that it can have a huge impact in real life situations.
When exploring which sport is best for your whole family to take part in, it's important to look outside of the classes and consider how it may benefit life as a whole. With health and bonding already being touched on earlier in this blog, its vital to mention the real life application of martial arts and acknowledge that jiu jitsu is not only fun and can bring your family close together, but it can also play a huge role in keeping your family safe.
Self defence classes teach exactly that, ways in which you cn defend yourselves.
For parents with children who are growing up, it can be quite daunting as they enter the 'real world' and travel the paths that the sometimes scary landscape offers.
Learning self defence as a family offers the peace of mind that each member of the family unit is equipped to keep themselves and each other safe should a threatening situation arise in the real world.
Because of this, jiu jitsu is so much more than a sport for the whole family.
Family Self Defence Classes At Ellis Academy Of Self Defence
Family self defence classes at Ellis Academy offer all the benefits we have explored in today's blog.
Because of this, we have programmes that teach people from toddlers to adults, meaning the whole family can get involved. Our children's programmes and adult programmes teach jiu jitsu rooted in the teachings of the Gracie family.
We aim to teach each individual how to defend themselves in the real world but we also encourage a personal journey, reflecting within and encouraging families to bond and gain mutual understanding of the growth we experience within our dojo.
If you would like to learn more about family self defence classes or would like to discuss why it might be the right option for your family. Feel free to get in touch with a member of our team today.
You can reach us by calling 01737761999.